No. 26 | 13.08.2021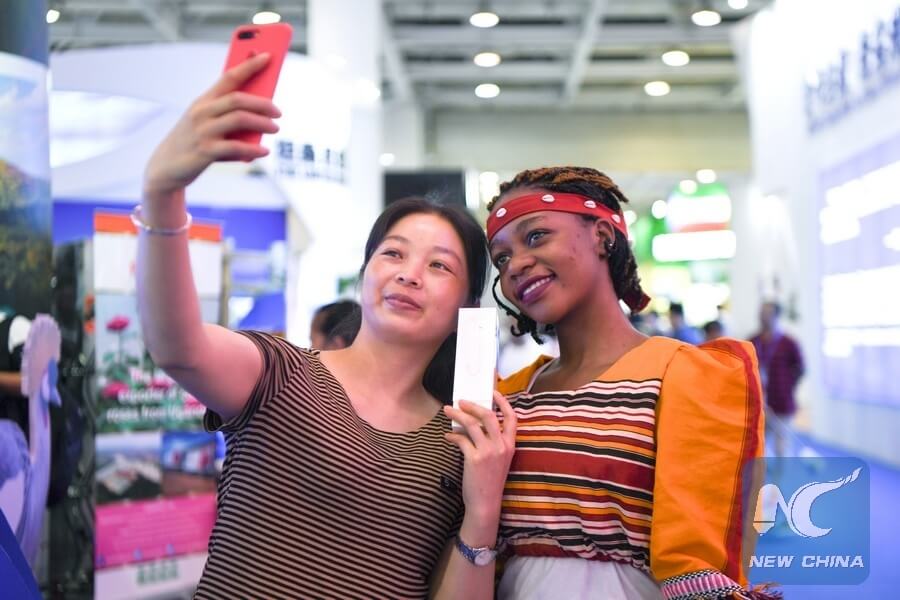 A visitor at the China-Africa Economic and Trade Expo in Changsha takes selfies with a Ugandan staff member, 28 June, 2019 [ Xinhua]
Dear reader,
For the next two weeks, News on China: Africa Weekly will share retrospectives covering some of the key stories we've published over the last few months.
As we look back at recent headlines, it is clear that there is so much yet to uncover and understand of the multiple existing relations between Africa and China, and their dynamic realities. Too often, mainstream reporting provides a limited or partial scope. Many times, distortions are offered in place of complex realities and relationships.
The following stories make humble steps towards understanding these relationships, which is in the interest of all humanity.
If you have any comments or questions, please let us know at editor@dongshengnews.org.
– Dongsheng editorial collective

Geopolitics
African nations strengthen agency through infrastructure projects and leadership visits to China (222 trips; 2009-18)
From Zimbabwe's parliament buildings (US $140 ­million) to the African Union's headquarters (US $200 million), African governments leverage diplomatic relations for Chinese-funded government facilities and more advantageous trade relations; China tops diplomatic visits to Africa, with 82 trips to 40 countries (2009-18)
South China Morning Post, 26.04.2021
South China Morning Post, 23.05.2021
China overtook US as Africa's top trading partner and largest source of investment (US $106.7 billion, 2013-19), in two decades
US share of Africa's foreign trade fell (15.5% to 5.6%), while China's share jumped (4% to 25.6%) of the total in 20 years; Biden promises to resume investments in the continent without concrete plans

Economy
Chinese direct investment in Africa (US $49.1 billion) increased tenfold and contributed to more than 20% of GDP growth from 2000-19
Faced with rising domestic consumption and an aging population, China bets on the growth potential of Africa's population (2.5 billion, 2050) and middle class (350 million, 2020), but intra-continental economic obstacles remain

Agriculture and Environment
Hybrid rice scientist Yuan Longping (1930-2021) remembered for contributions against global hunger, including 16 grain pilot programs in Africa
In Madagascar, seed technology and innovative methods tripled transplanting speed (to 0.3 hectares/day) and yields (to >7.5 tons/hectare) from 2006 to 2019; China trained 14,000+ technicians in 80 developing countries
SUPPLEMENT: China Daily, 19.07.2021

Science and Technology
Transsion leads Africa's growing mobile market (+14% year-on-year, Q1), with low-priced handsets (US $35-100) and features customized to African consumers
Shenzhen-based manufacturer of the Tecno, Infinix, and Itel brands leads the African smartphone market (44.3%), overtaking Samsung (22.9%), with four-chip phones and keyboards in local languages (Amharic, Swahili, Hausa)

Health
Chinese pharmaceuticals will supply 550 million COVID-19 vaccines to COVAX by mid-2022, while African manufacturers (Egypt and Morocco) start production
110 million Sinopharm and Sinovac doses will be immediately available; five African countries are involved in vaccine production and will meet <1% of the needed doses for the continent, where only 2% of the population is fully vaccinated
South China Morning Post, 12.07.2021

People's Life and Culture
"C-Dramas" draw ten million African subscribers in 30 countries due to shared values and expansion of streaming services
With 300 African voice-actors, media giant StarTimes has dubbed over 20,000 episodes of Chinese series into 11 local languages (including Swahili and Yoruba) since 2011; some African viewers prefer Chinese themes and styles absent in Western productions

Moment in History
With the death of independence leader Kenneth Kaunda (1924-2021), Chinese-supported Tanzania-Zambia railway built under his leadership remains a symbol of internationalism
With interest-free loan (US $500 million), 56,000 Chinese (1970-76) alongside African workers constructed 320 bridges, 22 tunnels, and 93 stations of the 1,860km railway, reducing dependency on neighboring colonial states; >60 Chinese died in the process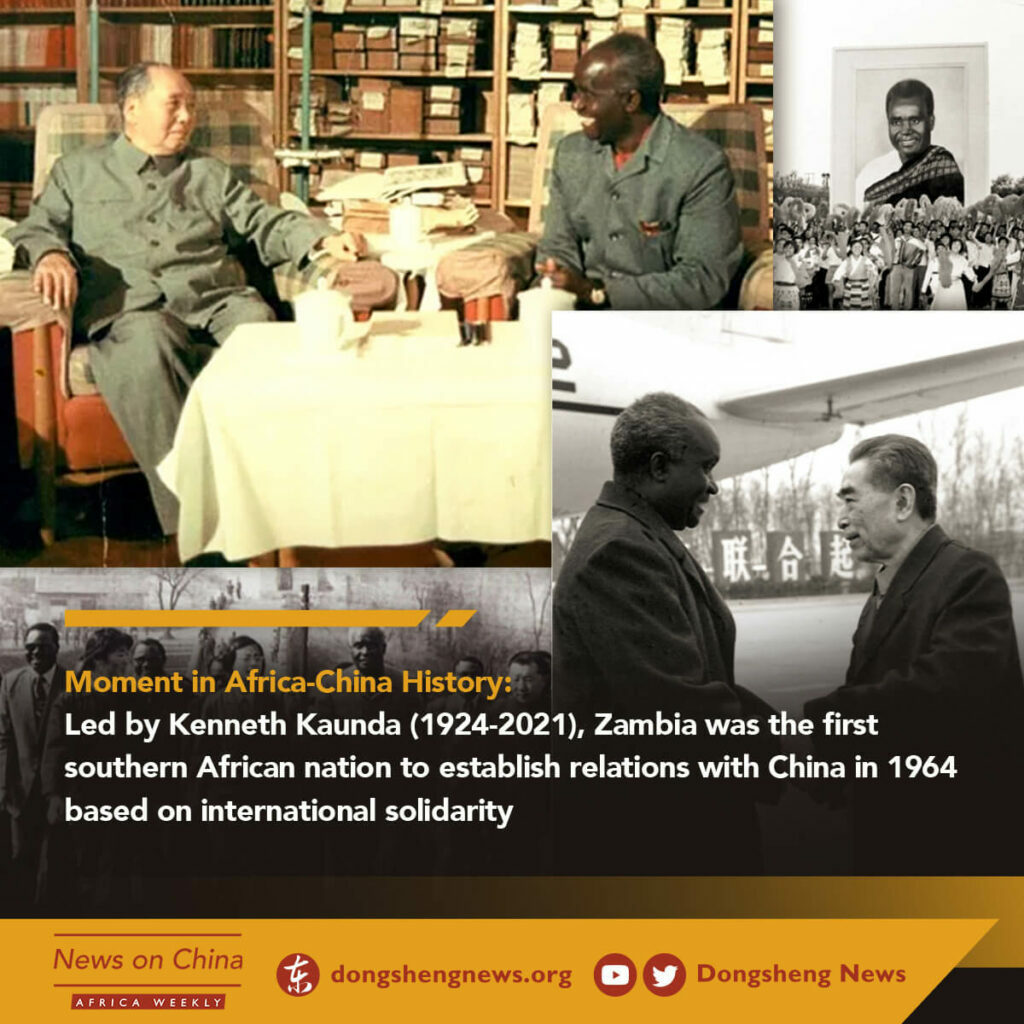 Led by Kenneth Kaunda (1924-2021), Zambia was the first southern African nation to establish relations with China in 1964 based on international solidarity